· By The Wakaii Team
400+ Teddy Bear Names to Inspire You!
Choosing a name for your child's new teddy bear is a big deal.
It's more than just a label; it's the start of a bond that will last for years.
Whether you're looking for adorable, funny or even aesthetic names for teddy bears, we got you covered.
Let's dive into this exciting journey of naming your plushie!
How to Choose a Teddy Bear Name
When it comes to names for teddy bears, there's no one-size-fits-all approach.
Some kids might name their teddy based on its characteristics, like its color or texture.
The key is to let your child's creativity shine through. After all, the spontaneity of children in naming their teddy bears is part of the fun!
Pro Tip: Encourage your child to take their time in choosing a name. It's a big decision, but there's no rush. The perfect name will come when it's ready!
400+ Best Teddy Bear Names
🔥 Popular Names 🔥
These are the tried-and-true favorites that never go out of style.
From "Teddy" to "Snuggles," these names are beloved by children around the world.
Teddy
Honey
Cuddles
Bubbles
Fuzzy
Pookie
Snowball
Buttons
Wally
Tuffy
Squishy
Huggie
Piglet
Boopie
Mr. Fluff
Buddy
Chubby
Tubby
Pebbles
Twinky
Bb
Peaches
Lovebug
Mr. Cuddles
Sooty
Fudge
Marshmallow
Nugget
Pinky
Snuggles
🎀 Cute & Kawaii Names 🎀
For those who love all things cute and kawaii, these teddy bear nicknames are just as adorable as your plushie.
Sparkles
Giggles
Fluffy
Pudding
Sugar
Lollipop
Cupcake
Jellybean
Sprinkles
Muffin
Popsicle
Bubblegum
Marshmallow
Candyfloss
Tootsie
Gummy
Skittles
Taffy
Bonbon
Caramel
Butterscotch
Toffee
Honeybun
Sweetie Pie
Lolly
Gumdrop
Pixie
Starburst
Jelly Tot
Rainbow
🎬 Movie and Book Inspired Names 🎬
Is your child a movie buff or a bookworm?
These teddy bear names are inspired by popular characters from movies and books.
Paddington
Simba
Narla
Yogi
Toto
Woody
Elvis
Stitch
Pooh
Tigger
Care Bear
Little John
Gummy Bear
Smokey the Bear
Pooky
Br'er Bear
Mr. Bean
Bam-Bam
Ted
Boo-Boo
Beary Potter
Snoopy
Buzz
Carie
Baloo
Koda
Lotso
Fozzie
Ruxpin
Corduroy
👧 Girl Teddy Bear Names 👧
If your teddy bear is more of a girly girl, this list of names will suit her perfectly.
Daisy
Rosie
Bella
Lily
Honey
Sugar
Princess
Angel
Sweetie
Buttercup
Missy
Dolly
Lulu
Mimi
Coco
Cherry
Peaches
Blossom
Bubbles
Sparkle
Twinkle
Sunny
Star
Rainbow
Petal
Pippa
Poppy
Ruby
Pearl
Queenie
👦 Boy Teddy Bear Names 👦
For those teddy bears that just exude a masculine charm, here are some names that are perfect for your boy teddy bear.
Bear
Henry
Tommy
Bruce
Sheriff
Jasper
Ralph
Dusty
Keith
Ernie
Johnny
Fred
Rufus
Barry
Darwin
Foster
Rowen
Winifred
Winslow
Eddie
Taki
Haku
Stevie
Polo
Alfred
Charlie
Benny
Max
Oliver
Sam
🌳 Nature-Inspired Names 🌳
These teddy bear names are inspired by the beauty of nature.
Sunny
Daisy
River
Willow
Maple
Sky
Blossom
Rain
Stormy
Snowy
Rose
Ivy
Fern
Forest
Ocean
Pebble
Cloud
Breeze
Autumn
Winter
Summer
Spring
Hazel
Moss
Berry
Pine
Petal
Star
Moon
Sunflower
🍓 Food-Inspired Names 🍓
Sweet as sugar and everything nice, these food-inspired teddy bear names are deliciously cute.
Cookie
Muffin
Cupcake
Brownie
Jellybean
Caramel
Toffee
Marshmallow
Popcorn
Waffle
Pancake
Donut
Biscuit
Truffle
Fudge
Cinnamon
Sugar
Honey
Coco
Cherry
Apple
Peaches
Candy
Sprinkles
Pudding
Marmalade
Taffy
Butterscotch
Raisin
Peanut
🎨 Color-Inspired Names 🎨
These color-inspired teddy bear names add a vibrant touch to your teddy bear.
Red
Blue
Green
Yellow
Pink
Orange
Purple
Goldie
Silver
Ruby
Sapphire
Emerald
Amber
Violet
Indigo
Azure
Ivory
Ebony
Scarlet
Maroon
Olive
Jade
Coral
Pearl
Rose
Lavender
Teal
Sienna
Hazel
Onyx
🌌 Space-Inspired Names 🌌
For the little astronauts out there, these space-inspired teddy bear names are out of this world.
Star
Comet
Galaxy
Nebula
Orion
Venus
Mars
Jupiter
Saturn
Uranus
Neptune
Pluto
Apollo
Luna
Sol
Nova
Sirius
Vega
Rigel
Andromeda
Pulsar
Quasar
Cosmos
Meteor
Eclipse
Aurora
Stardust
Milky
Astro
Rocket
🌍 Place-Inspired Names 🌍
Travel the world with these place-inspired teddy bear names, from "Paris" to "Tokyo".
Paris
London
Sydney
Cairo
Rio
Tokyo
Venice
Berlin
Madrid
Rome
Vienna
Oslo
Havana
Delhi
Beijing
Athens
Dublin
Lisbon
Zurich
Moscow
Seoul
Istanbul
Quebec
Cairo
Nairobi
Perth
Manila
Lima
Santiago
😂 Funny Names 😂
If you're looking for something a little different, these funny and quirky teddy bear names are sure to bring a smile to your face.
Fluffy McFluffface
Sir Cuddlesworth
Bear Grylls
Teddy Spaghetti
Honey Paws
Bear-nardo Da Vinci
Beary Potter
Bearlock Holmes
Teddy Ruxpin
Fuzzy Wuzzy
Cuddle Muffin
Snuggle Bunny
Huggy Bear
Bear Necessity
Teddy Bearst
Beartholomew
Bearista
Bearbecue
Bearmuda Triangle
Bearagon
Bearallel Universe
Bearicade
Bearister
Bearitone
Bearmometer
Bearicature
Bearify
Bearilliant
Bearisk
🌈 Names Inspired by Care Bears 🌈
For fans of the classic Care Bears, these names are inspired by the lovable characters from the show.
Tenderheart Bear
Cheer Bear
Grumpy Bear
Share Bear
Funshine Bear
Wish Bear
Good Luck Bear
Love-a-Lot Bear
Bedtime Bear
Friend Bear
Birthday Bear
Harmony Bear
Secret Bear
Surprise Bear
Sweet Dreams Bear
Thanks-a-Lot Bear
Hopeful Heart Bear
Amigo Bear
Best Friend Bear
Do-Your-Best Bear
Cozy Heart Penguin
Lotsa Heart Elephant
Brave Heart Lion
Bright Heart Raccoon
Swift Heart Rabbit
Proud Heart Cat
Noble Heart Horse
Gentle Heart Lamb
Loyal Heart Dog
Playful Heart Monkey
🌟 Aesthetic Teddy Bear Names 🌟
For those who appreciate the beauty in everything, these aesthetic teddy bear names are as pleasing to the ears as they are to the eyes.
Dream
Serenity
Harmony
Bliss
Echo
Aura
Dusk
Dawn
Solstice
Equinox
Zen
Luna
Sol
Nova
Nebula
Cosmos
Stardust
Ether
Elysium
Arcadia
Eden
Utopia
Nirvana
Euphoria
Seraph
Halo
Celeste
Lyric
Sonnet
🐻 Brown Teddy Bear Names 🐻
These names are perfect for your cuddly brown teddy bear.
They're inspired by all things warm, cozy, and earthy - just like your teddy!
Cocoa
Mocha
Cinnamon
Nutmeg
Chestnut
Hazel
Toffee
Caramel
Fudge
Pecan
Walnut
Maple
Teddy Graham
Brownie
Coffee
Espresso
Latte
Truffle
Acorn
Woody
Rusty
Barky
Chip
S'more
Pretzel
Waffle
Pancake
Biscuit
Rolo
Cadbury
🖤 Black Teddy Bear Names 🖤
These names are perfect for your sleek black teddy bear. They're inspired by the night sky, black animals, and all things mysterious and cool.
Midnight
Shadow
Onyx
Ebony
Raven
Panther
Jet
Charcoal
Smoky
Coal
Blackie
Inky
Sable
Obsidian
Noir
Eclipse
Phantom
Ninja
Batman
Licorice
Blackberry
Velvet
Thunder
Stormy
Darko
Nightfall
Twilight
Starless
Void
Pitch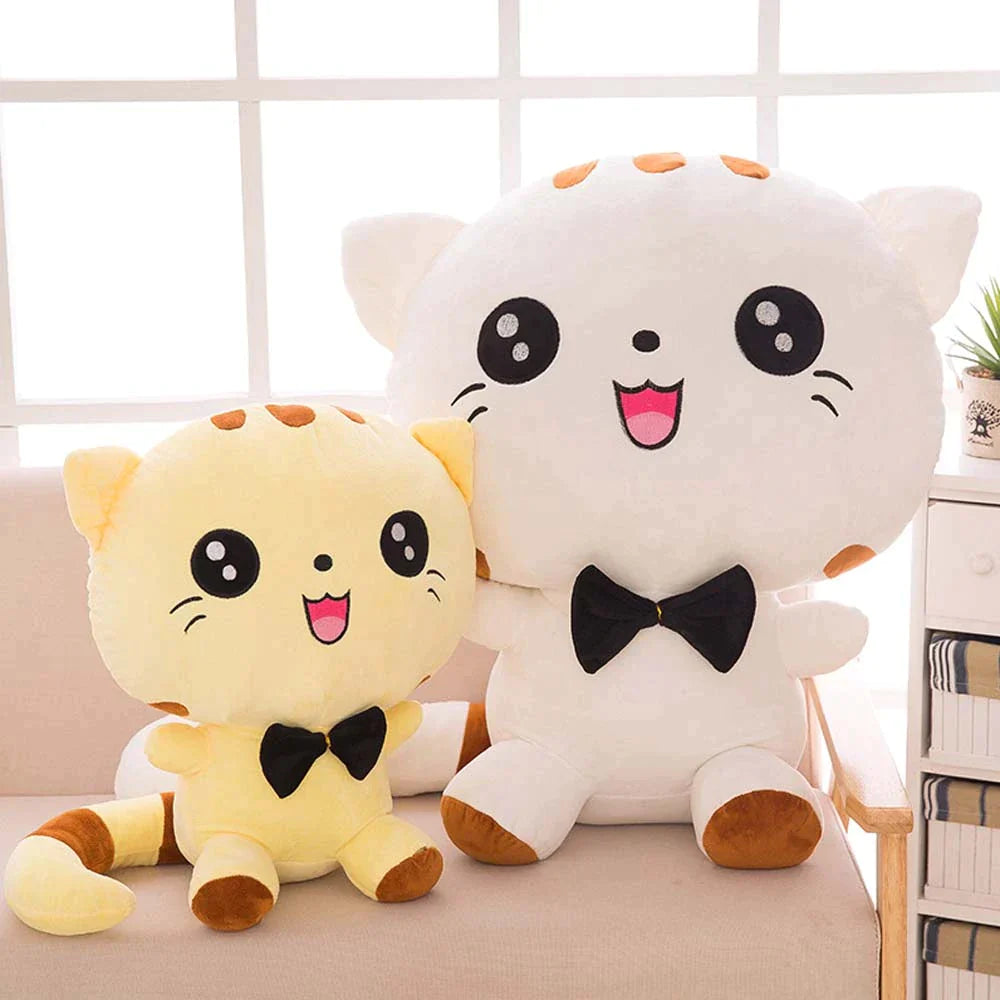 Add to Cart
Exciting Ways to Choose a Teddy Bear Name
Finding the perfect name for your new teddy bear friend should be a fun and imaginative journey. Here are some creative methods to uncover that ideal name.
1. Teddy Bear Chronicles
Craft a story with your child where the teddy bear is the hero.
As the story evolves, a suitable name might naturally surface.
It could be inspired by the teddy bear's adventures or unique traits it exhibits in your story.
2. Name Lottery
Jot down all potential names on separate pieces of paper and place them into a hat or jar, then let your child pick a name.
This method adds a dash of surprise and thrill to the naming process.
3. Alphabet Challenge
Kick off with the letter 'A' and brainstorm a name for each letter of the alphabet until you reach 'Z'.
This technique can spark your creativity and lead to some quirky and distinctive names.
4. Teddy Bear Interview
Set up a playful personality quiz for the teddy bear.
Pose questions like, "If your teddy bear could speak, what would it say?" or "What's your teddy bear's favorite make-believe snack?"
The responses can help inspire a name that aligns with the teddy bear's character.
5. Teddy Bear's Special Day Name
Reflect on the day your child received their teddy bear.
If it was on a holiday, a festive name like "Easter" or "Sparkler" might work.
Or if it was on their birthday, a name connected to their birthstone or zodiac sign could be a thrilling choice.
6. Trip Down Memory Lane
Recall some of your cherished childhood toys or characters.
Sharing these memories with your child and potentially passing down a treasured name can create a beautiful bonding moment.
7. Try a Plushie Name Generator
If you're still in a pickle, why not give our Plushie Name Generator a whirl? It's a fun and effortless way to conjure up a unique name for your teddy bear.
Add to Cart
Conclusion
The bond between a child and their teddy bear is a special one, and giving that teddy bear a name is the first step in creating that bond.
Whether you're looking for adorable, unique or funny names for teddy bears, remember that the best name is the one that makes your child's eyes light up.
And hey, if you're still on the hunt for the perfect teddy bear, why not check out our plushies collection? We've got a wide range of adorable teddy bears waiting to be named and loved.
Plus, if you subscribe to our newsletter, you'll get 15% off your first order!
FAQs
How did you come up with these names for stuffed animals?
We brainstormed and compiled these names based on popular culture, adorable food items, color names and creative ideas. Our aim was to create a diverse list that suits a wide range of plush personalities.
Can I use these names for my pet too?
Definitely! These names are not exclusive to stuffed animals. You can use them for pets, inanimate objects or even as nicknames. Just make sure that it is a fitting and respectful choice.
Can I suggest more names for the list?
Absolutely! We always appreciate creative input from our readers. Feel free to share your unique stuffed animal name suggestions in the comment section. We might include them in future updates!
Do these names suit all types of stuffed animals?
Yes, our names list is versatile and can be used for any type of stuffed animal, from bears and bunnies to dinosaurs and unicorns. Just pick the one that feels right for your cuddly companion!